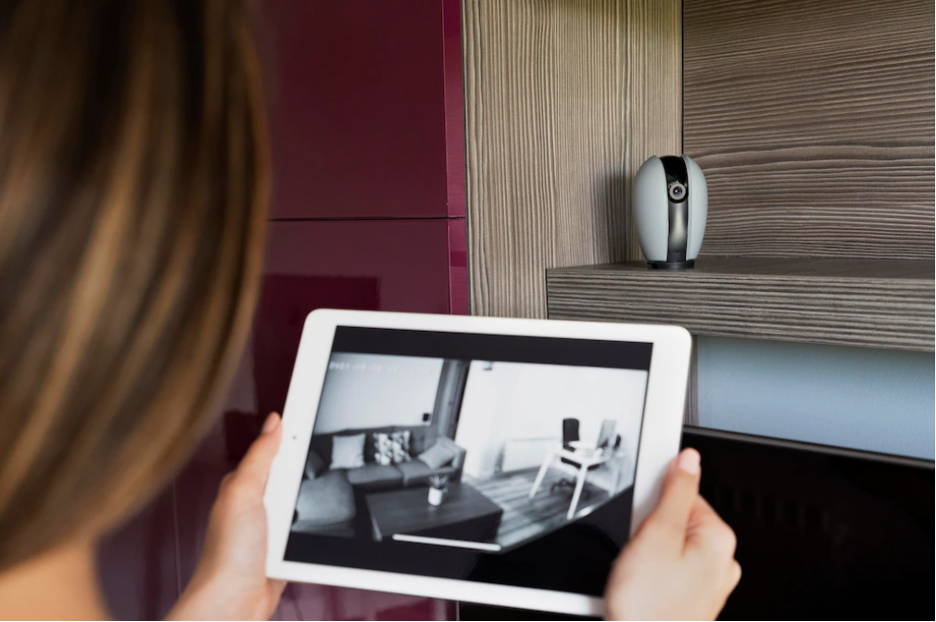 Home Security & Smart Home Applications: How to Keep Your House Secure & Smart
Gone are the days when you would have to squint to get a good look at video cam footage, trying to recognize who it could be at the door, or even just having to go through the tedious process of accessing something manually like the thermostat or the sprinkler controller. With Smart Home Products, all these steps are streamlined and can be done from practically anywhere around the world through a simple tap on your smartphone. Sounds like an exaggeration but it is true!
Home security is now better than ever thanks to smart home devices and the technology that comes with each of them. With multiple products in the market that you can easily access through smartphone applications or even integrate with your voice assistant, you can now lock your doors, turn on your lights and monitor your smart cameras and smoke detectors for that matter, with the tap of a button on your phone or with a simple voice command from the comfort of your home.
Let's discuss some products that you could use to install in your home in order to take home security to another level and make your home smarter.
Smart Bulbs
Smart bulbs and smart lighting can definitely play a significant role in home security. Smart floodlights can be connected to an additional motion sensor or even integrated with your smart cameras, in order to automatically turn on and alert the user of an intruder or better yet, scare away any intruder.
Similarly, you can use smart bulbs inside your home with motion sensors and in the porch area as a front door motion sensor light, which would help make you feel safe and protected while you're standing in the porch area of your home at night. You won't have to fumble for your keys out in the dark, or even worry about the corridor lights when making your way to the kitchen for a glass of water if there are indoor motion sensor lights installed already.
Smart Cameras
Smart Cameras are an essential part of a smart home security system. With smart cameras like the Google Nest Camera, for instance, users can easily access the live footage 24/7 from anywhere through its smartphone application.
Smart cameras also have wireless alternatives which allow users to have a hassle-free and smooth installation process or even just place the camera in discreet corners of the house. Whether you're a parent with a big family or living in your studio apartment or a dorm, you can easily use both outdoor and indoor security cameras to protect yourself, your family, and your belongings too for that matter.
Smart cameras can help deter burglars and keep you protected with their two-way microphone feature that enables users to hear as well as speak to whoever is at the other end of the camera. Smart Cameras in general sport HD video quality and feature night vision as well. What's more is that with the use of AI technology, certain variants of these smart cameras can expertly differentiate between cars, animals, and humans to help reduce any false alerts, and to expertly send a snapshot to the users' smartphone as soon as any motion is detected within its surroundings.
With 24-hour coverage, users can easily monitor what's going on inside and outside of their homes, to make sure that their kids, the elderly individuals at home, or even their pets are safe and doing fine while they are away.
Smart Door Locks
Smart Door locks are capable of providing 24-hour security to homeowners. With smart door locks, users can easily lock and unlock their doors through their associated smartphone applications as well as through simple voice commands if synced to a voice assistant at home. Smart door locks are available in several variants, and with different methods like that of fingerprint unlocking, keypads, digital passcodes and some even use location tracking of mobile devices in order to auto-lock and unlock themselves.
Smart door locks can be an excellent choice for homeowners that have young children at home, given that they tend to open doors for random strangers or wander out of the house while the parents are busy – and similarly for elderly individuals that might need that extra help when it comes to safety.
These devices are what put your mind at ease since they monitor and keep track of when the door has been locked and unlocked through alerts directly sent to your smartphones. What's more is that with certain variants of smart door locks, homeowners can sync them to smart video doorbells that would essentially help unlock the door and even give you live video access to who might be at your door.
Conclusion
With the help of technology progressing over time, that too within the domestic domain, there are several ways in which homeowners can enhance their home security systems now. The above 3 are just some of the commonly used devices by homeowners that are guaranteed to provide safety by allowing you to monitor your homes around the clock, and from miles away too. Head on over to www.firstenergyhome.com and browse through their smart home catalog to see which smart devices would fit right into your homes.