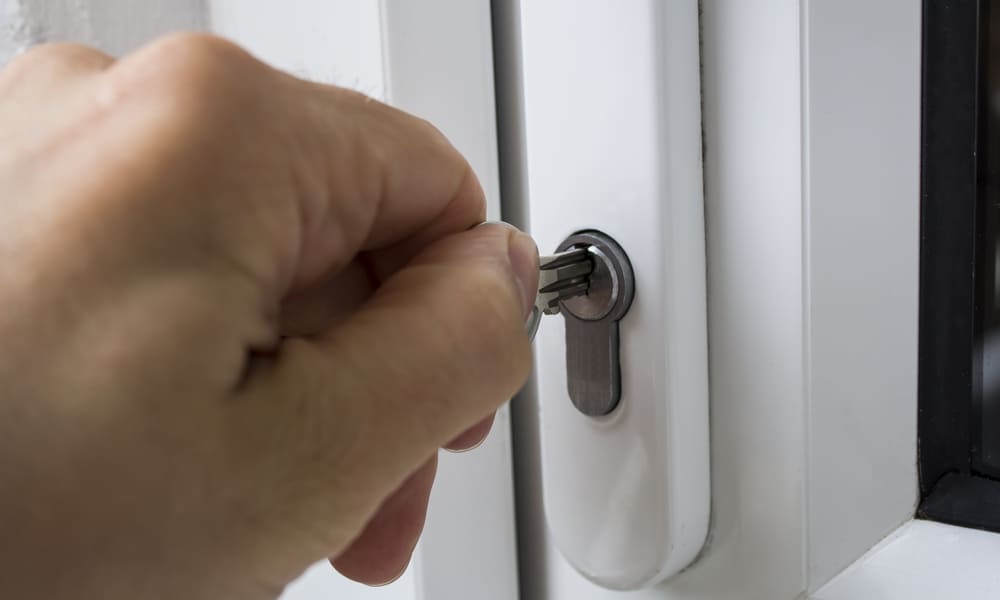 Locked Out? Don't Panic! 5 Surprisingly Simple Ways to Open a Locked Door
Being locked out of a room or house can be a frustrating experience. Whether you misplaced your keys or the door lock is malfunctioning, it's essential to stay calm and remember that there are often simple solutions to this common problem. In this blog post, we'll explore five surprisingly simple ways to open a locked door when you find yourself in a pinch. From utilising household items like credit cards and hair clips to understanding the importance of seeking professional assistance from a locksmith, we've got you covered with practical tips and tricks.
1. The Credit Card Technique:
One of the most well-known methods for opening a locked door without a key is the credit card technique. This technique works best with spring-loaded latches. Simply take a sturdy, flexible card, such as a credit card or an ID card, and insert it between the door and the frame where the latch is located. Hold the card perpendicular to the door and firmly push and wiggle it while simultaneously pushing the door to create space for the latch to retract. With some persistence and a bit of finesse, the latch should retract, allowing you to open the door. However, it's important to note that this method may not work with all types of locks and doors.
2. Hairpin Heroics:
If you find yourself without a credit card, a simple hairpin can come to your rescue. Bend the hairpin to create a straight section and insert it into the keyhole, applying gentle pressure. Wiggle and twist the hairpin while simultaneously applying slight pressure to mimic the action of a key turning in the lock. With patience and a steady hand, you may be able to manipulate the pins within the lock mechanism, eventually unlocking the door. Keep in mind that this technique works best with basic pin tumbler locks and may not be effective for more advanced lock systems.
3. The Trusty Bobby Pin:
Similar to the hairpin technique, a bobby pin can serve as an improvised lock-picking tool. Straighten out one end of the bobby pin, leaving a small hook at the tip. Insert the bobby pin into the keyhole, applying gentle pressure as you manoeuvre it. Use the hook end to push the pins within the lock, attempting to align them at the shear line. With some skill and luck, the lock should turn, granting you access to the locked room or property. However, please be aware that lock-picking is a skill that requires practice, and attempting it without proper authorisation may be illegal in some jurisdictions.
4. Removing Hinge Pins:
Sometimes, the simplest solution is to remove the door from its hinges. Most doors are attached to the frame with three or more hinges, and each hinge has removable pins that hold them together. By using a screwdriver or a thin, sturdy object, such as a nail or the tip of a knife, tap the bottom of the hinge pins upward until they loosen and can be easily pulled out. Once all the pins are removed, lift the door slightly to free it from the hinges. This method is particularly effective for doors that swing inward. However, keep in mind that exterior doors and doors with security features may have different hinge designs that make this technique less feasible.
5. Seeking Professional Assistance:
While the aforementioned methods can be handy in emergency situations, it's crucial to recognise the limitations of DIY techniques. If you're unable to open the locked door using the methods described or if you encounter a complex lock system, it's best to seek professional assistance from a locksmith. Locksmiths are highly trained professionals who specialise in lock mechanisms and can provide expert solutions for a wide range of lock-related issues. They have the knowledge, tools, and experience to handle differenttypes of locks and can ensure a non-destructive entry into your property.
Locksmiths are skilled professionals who can assess the situation, identify the most suitable approach, and employ specialised tools to open the locked door efficiently and without causing any damage. They are equipped with lock-picking tools, lock bypass techniques, and the expertise to handle various lock mechanisms, including high-security locks and electronic systems. Relying on a locksmith in Leeds ensures a safe and reliable solution, especially when dealing with complex locks or situations that require precision and expertise.
It's important to note that locksmiths not only assist in emergency lockout situations but also offer a range of other services. They can rekey locks, repair or replace damaged locks, install new locks, and provide valuable advice on enhancing the security of your property. Locksmiths are familiar with the latest advancements in lock technology and can recommend the most effective solutions to meet your specific needs.
While being locked out of a room or property can be a stressful experience, there are several surprisingly simple methods to open a locked door in a pinch. Techniques like using credit cards, hairpins, or removing hinge pins can offer temporary solutions in certain scenarios. However, it's crucial to recognise the limitations of DIY methods and to prioritise safety and security.
In situations where DIY methods are ineffective or when dealing with complex lock systems, it is highly recommended to seek professional assistance from a locksmith. Locksmiths are highly trained professionals who possess the expertise, tools, and knowledge to handle various types of locks and ensure a non-destructive entry into your property.
Locksmithsare vital in the security industry. Their skills, experience, and dedication to providing reliable solutions make them an essential resource when it comes to addressing lock-related issues. So, the next time you find yourself locked out, don't panic. Assess the situation, consider the simple DIY methods, but also recognise the value of locksmiths in delivering efficient, secure, and professional assistance.