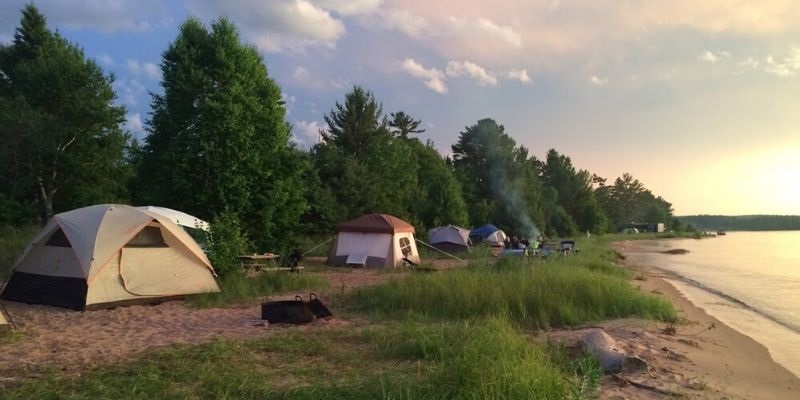 During the weekends or especially if planning for a long trip then many individuals are there those who prefer camping, it's a bit adventurous and thrilling as they are going to spend nights in a tent. Now some people are so obsessed with camping that they are seen camping in the mid of the forest. Now in cedar Springs Michigan there are many renowned camping grounds where anyone can spend quality time.
Now I would like to mention a few best campgrounds in Cedar Springs, MI which are famous not for the location but also for the facilities they provide
Good Sam Park
It is a unique campground in the residential areas of 5 acres. Now there is a swimming pool and a kind of pond where we can rent the boat and have a little ride and click pictures; it's a vast area where kids can play outdoor games. Not only that, they provide picnic tables where a bench is attached so that many can join for meals, and also a fire pit is there to do the bonfire. The golf practice area is also there, so they charge extra for these activities and will provide the types of equipment for the games. They offer camping cabins with double beds, a kitchen, Ac, bunks, and a refrigerator. So free Wi-Fi is there, not only that they provide laundry services and hot showers if needed.
Duke Creek Campground
This is also worth mentioning, which is maintained incredibly. They provide tent cabins, which will also be an excellent experience for children. The staff was nice, and there was so much peace and a serene atmosphere. They provide all the facilities, and there is a gaming room for kids where games are there according to the age, and a few staffs were there to monitor the kids so that they don't get hurt
Three Season Campground
Now, this is the best among many. It also has a vast area for camping, and a swimming pool is there not only a considerable pond where there are varieties of fish so the tourists can have a fishing experience and then they can bake the fish by themselves. They are not allowed to take the fish outside. This camp's specialty is kayaks and row boats so that people can indulge in great ventures.
So there are many in Cedar Springs, so if you plan to camp in Michigan, try one of these places. You would indeed have a substantial and homely experience.